Coloured MDF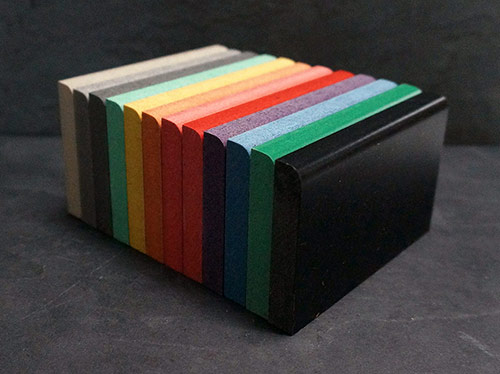 Made from wood fibres that have been impregnated with organic dyes throughout and bonded together by a special resin, NS Trading Singapore's Coloured MDF combines the natural features of wood with the best of engineering.
Our coloured MDF boards have been designed such that organic dyes are introduced to wood fibers early on in the production process. This allows for a consistent colour distribution throughout the entire board and not just on the surface. Hence, the colour through the board remains consistent regardless of whether it is sanded, cut, routed or machined.
Coloured MDF is also chemically bonded using a special moisture-resistant resin during manufacturing, giving it exceptional physical and mechanical properties, including higher moisture resistance and up to 30% greater density and strength than regular MDF.
Key Features:
– Moisture resistant (only 7 – 12% swelling after 24hrs)
– Fire resistant (Class 0)
– Ultra-low formaldehyde emission (Grade E1)
– Higher density than regular MDF
– Coloured throughout using non-toxic organic dyes
– High bending resistance able to withstand heavy weight
– Tool friendly & easy to machine